We cannot expect to solve our most complex problems by rational thinking only. As a hybrid professional, I believe that we need to teach our educators today to develop all talents of the next generations by bringing back art into places of learning.
When I examine myself and my methods of thought, I come to the conclusion that the gift of fantasy has meant more to me than my talent for absorbing positive knowledge- Albert Einstein
Arts in our learning environments
Spring is often that time of the year where people's energies resonate with burgeoning life. For me spring came with a few fundamental questions. What is essentially my source, how can I connect more deeply to my purpose, what can I contribute to the world? I realized that for change to be sustainable, we need to revaluate the arts in our learning environments and trust non-rational interventions to prevent talents from going undiscovered.
Kindergarten
What triggered all this in my mind was a request by a teacher friend to give a mini art-class for her 4-6 year-olds at Kindergarten. Without hesitation I agreed. So some weeks ago on a Tuesday morning I found myself sitting in front of 20 kids discussing my life and work. "what is your favorite food and why are the bodies in your paintings without heads?" My answers "homemade pizza's" and "I select what I like best: the chest and the pelvis," satisfied them.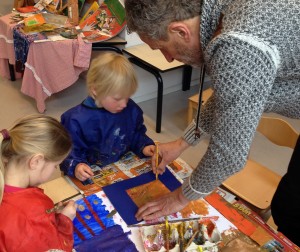 Art is about selecting what you see
I then engaged them in a collaborative painting session on the subject: what's your favorite pastime. They drew, colored and selected the pieces they liked best for their museum. I was struck by the effortless seriousness with which they applied themselves for 2 hours, enjoying their activities and getting the point that art is about selecting what you see: 4-6 year-olds! I even had trouble leaving after two hours. The kids clung to my long legs preventing me to leave. According to my friend, they talked about the experience for weeks after. And so did I. What made this such a memorable experience?
Navigating Complexity
As I sat looking out the window of my Amsterdam home, seeing the young leaves glistening in the sun, I compared my Kindergarten art class to a similar workshop I did for the delegates of the Human Systems Dynamics conference "Navigating Complexity" some months earlier in Chicago. I was asked to present a workshop designed to experience trust, collaboration and innovation in a complex human systems. The process is in three parts:
Make a collaborative drawing on a large sheet of rice paper
Select a piece from this drawing and use it as the groundwork for individual paintings on small canvases
Collectively, combine the canvases to create a coherent whole.
My ego went out of the room
The whole thing takes no more than an hour, engaging everybody and moving some to tears. People commented afterwards on the deep connection they suddenly felt, creating something together and the joy of painting. "First I was afraid to paint, but that disappeared completely; what I contributed was entirely for the good of the whole; my ego went out of the room when we were working together. The flow of the group creating was exceptional"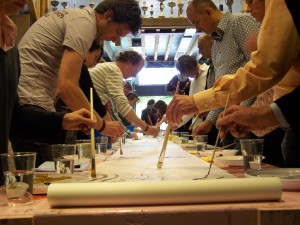 Fostering Curiosity

So, what's the point of focusing so much on rational thinking as a portal to learning? So many children have talents that do not blossom in our predominantly rational learning environments. What would happen if our future leaders could continue to develop their talents through paint and play? And what if present leaders would remember their talents for non-linear modes of expression? Could they shape conditions for the young other-than-rational minds of our future generation to foster curiosity and solve the problems we have created?
I have been working as actor, management consultant and painter in organizational change for more that 25 years. Some recent experiences made me realize how effective non-rational interventions can be:
Relational richness: people are more than what they say and do
A management team recently asked me to work with them on a trust issue they had. Not that there was distrust, but there was just a little too much respect and too little courage to raise point of personal concern or criticism. As part of the program I asked them to interview each other in turn. I gave them paper and paint and asked the interviewer to paint a persona of the interviewee that most showed is/her talent. This focus on the deeper connection gave the interaction a richness that went far beyond rational analysis.
Storytelling: openness that connects
Some time ago, I was leading a 60 people department at a time of change. People were insecure and trust was at a low level. I invited a group of actors to play back some of the stories that kept them stuck. In the course of the event, people became courageous and open about what everybody knew but dared to discuss before. In one afternoon the actors achieved a major breakthrough in bringing back lasting trust.
Vision: the experience is what matters.
The management teams of large international department store invited me to design a workshop for 500 managers to communicate the newly developed values during the celebration of the store's 100th anniversary. There had been conversations between and among teams and management on all levels, resulting in a set of shared values, one them being 'Exceed expectations.' We suggested to do a pilot painting workshop for the management themselves first. They were hesitant and grudgingly agreed. I coordinated an hours' session asking them to collaborate on a painting. They had fun, respected each others' contribution 'beyond expectation' and had the painting framed to be the center piece of the celebration.
Hybrid professional
The joy at expressing our talents in playing and painting comes natural at Kindergarten, but is mostly superseded by pressure and a heavy reliance on rational thinking, when we go to school and beyond. We cannot expect, however, to solve our most complex problems by rational thinking only. So let's teach our educators today to develop the talents of the next generations by bringing back art into places of learning. From Kindergarten to the designtables in our industries and executive boardroom of our leaders. So that once again we confront an empty sheet with the joy of play. Ending with other quote by Einstein: 'Play is the highest form of reseach.' I wonder what you think.